International Oculoplastic Course 2021 | Save the dates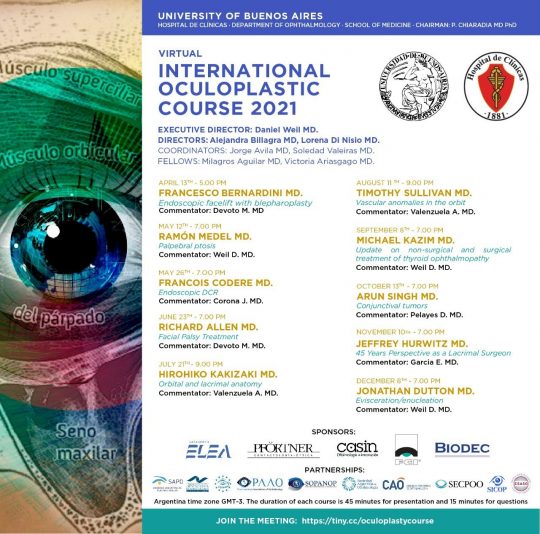 We are very happy to support the 2021 edition of the INTERNATIONAL OCULOPLASTIC COURSE along with our long-time partner in Argentina – CASIN OFTALMOLOGÍA + INNOVACIÓN – that is organized by the Department of Ophthalmology at the University of Buenos Aires, Argentina, under the leadership of Daniel WEIL, MD.
This program features monthly courses directed by world-renowned specialists in oculoplastic surgery, each session covering a distinctive topic in depth! These sessions will be 45 minutes long followed by a 15 minute Q&A at the end, and hosted on the Zoom Meeting platform.
This is a fantastic opportunity to learn & exchange with some of the most distinguished experts in these surgeries, AT NO COST!
Spots for each session are limited! Click on the following link to register: https://bit.ly/3uuOkbk
Don't wait and join our Ophthalmic Community now for exclusive content, new surgical videos and more!
▶️ LinkedIn – FCI Ophthalmic Community
▶️ YouTube – FCI Ophthalmic Video Resource
▶️ EyeTube – FCI Ophthalmic Video Resource